Tucson, Arizona is a vibrant and culturally rich city that offers a wide array of unique souvenirs for visitors to take home. These treasured keepsakes encapsulate the essence of the destination and make for perfect mementos to cherish your visit. From handcrafted Native American jewelry to sweet and spicy southwestern treats, Tucson has something special for everyone. Here are the top 10 souvenirs from Tucson AZ:
Native American Jewelry: Tucson is known for its rich Native American heritage, and one of the best ways to commemorate your visit is with a piece of handcrafted Native American jewelry. From silver and turquoise bracelets to intricate beaded necklaces, these unique pieces are true works of art.
Sonoran Desert Honey: Tucson is located in the heart of the Sonoran Desert, home to a variety of unique flora and fauna. Sonoran Desert honey is a delicious and distinct souvenir that captures the essence of this desert landscape.
Southwestern Spices: Bring the flavors of the Southwest home with you by picking up a selection of local spices. From spicy chili powders to earthy cumin, these seasonings will add a kick to your dishes and remind you of your time in Tucson.
Hand-Painted Pottery: Tucson has a rich arts and crafts tradition, and hand-painted pottery is a popular souvenir choice. Look for pieces adorned with traditional Native American designs or southwestern motifs to bring a touch of Tucson into your home.
Saguaro Cactus Souvenirs: The iconic saguaro cactus is synonymous with the desert landscape of Tucson. Look for souvenirs such as keychains, figurines, or artwork featuring the distinctive shape of these towering cacti.
Arizona Wine: Arizona has a thriving wine industry, and Tucson is home to several wineries. Pick up a bottle of local wine to savor the flavors of the region long after your visit.
Desert-themed Clothing: Show off your Tucson pride with desert-themed clothing items such as t-shirts or hats adorned with images of cacti, sunsets, or desert landscapes. These wearable souvenirs are perfect for keeping the Tucson spirit alive.
Southwestern Artwork: Tucson is a hub for artists and galleries, and the city is brimming with unique and vibrant artwork. Consider taking home a painting, sculpture, or print by a local artist to adorn your walls and remind you of the beauty of Tucson.
Sweet Prickly Pear Treats: Prickly pear is a fruit native to the Sonoran Desert, and Tucson offers a variety of sweet treats made from this unique ingredient. Look for prickly pear jams, candies, or even ice cream to satisfy your sweet tooth and bring a taste of Tucson home with you.
Arizona-themed Books: Immerse yourself in the history and culture of Arizona by picking up a book focused on the state's unique heritage. Whether it's a guidebook, a memoir, or a collection of Arizona-centric stories, these literary souvenirs will provide a deeper understanding of Tucson and its surroundings.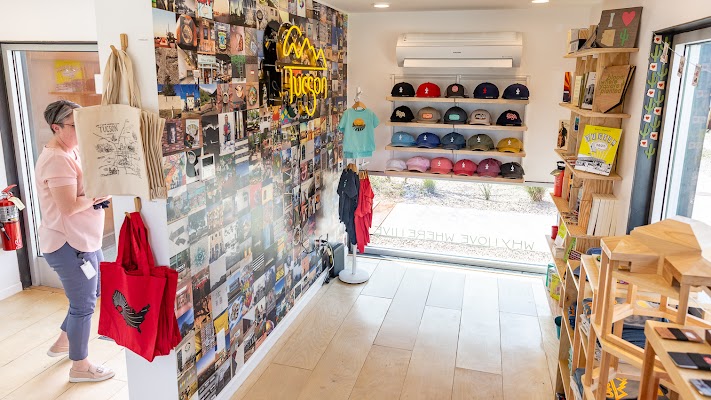 Bringing Joy from Tucson AZ: Top 10 Gifts to Delight Your Friends
Tucson, Arizona is a vibrant city known for its desert landscape, rich history, and unique blend of cultures. When it comes to choosing gifts for your friends, why not opt for something that captures the spirit of Tucson? From artisan crafts to delicious local treats, here are 10 gifts from Tucson that are sure to bring joy to your loved ones:
1. Saguaro Cactus Sculpture
Nothing says Tucson quite like the majestic saguaro cactus. Bring a piece of the desert home with a beautifully handcrafted saguaro cactus sculpture. These sculptures are made from various materials such as metal and glass, and they make for a stunning addition to any home decor.
2. Sonoran Desert Honey
The Sonoran Desert is home to an array of unique plants and flowers, resulting in delicious and distinct honey flavors. Surprise your friends with a jar of Sonoran Desert honey, known for its rich taste and smooth texture. It's the perfect sweet treat to remind them of Tucson.
3. Native American Jewelry
Tucson is surrounded by Native American communities, making it an ideal place to find exquisite Native American jewelry. From silver and turquoise necklaces to intricate beadwork bracelets, these pieces make for meaningful and beautiful gifts.
4. Mesquite Wood Cutting Board
Mesquite wood is abundant in Tucson and its surrounding areas. Gift your friends a mesquite wood cutting board, which not only showcases the natural beauty of the wood but also serves as a functional and durable kitchen essential.
5. Prickly Pear Products
The prickly pear cactus is a common sight in Tucson. Surprise your friends with a range of prickly pear products, including jams, jellies, candies, and even skincare items. These items not only have a unique flavor but also showcase the desert's bountiful offerings.
6. Southwest-inspired Artwork
Tucson's vibrant art scene is deeply influenced by the Southwest's natural beauty and indigenous cultures. Consider gifting your friends a piece of Southwest-inspired artwork, whether it's a painting, pottery, or a handcrafted sculpture. They'll have a unique memento that reflects Tucson's creative spirit.
7. Cactus-themed Apparel
Give your friends a fashion statement with cactus-themed apparel. From t-shirts and hats to socks and even swimsuits, there's a plethora of options featuring Tucson's beloved cacti. They'll be able to show off their love for the desert wherever they go.
8. Tucson Cookbook
Tucson's culinary scene is diverse, drawing inspiration from Mexican, Native American, and Western cuisines. Treat your friends to a Tucson cookbook, filled with authentic recipes that highlight the flavors and ingredients unique to the region. They can recreate Tucson's delicious dishes in their own kitchen.
9. Desert-inspired Candle
Bring the scent of the desert into your friends' homes with a desert-inspired candle. Look for scents such as mesquite, sage, or desert rain to capture the essence of Tucson's natural surroundings. These candles create a cozy and relaxing atmosphere.
10. Tucson Coffee Blend
Tucson is known for its vibrant coffee scene, with local roasters showcasing unique blends and flavors. Surprise your friends with a bag of Tucson coffee blend, allowing them to experience the city's rich coffee culture from the comfort of their own home.
Saguaro Cactus Sculpture
Sonoran Desert Honey
Native American Jewelry
Mesquite Wood Cutting Board
Prickly Pear Products
Southwest-inspired Artwork
Cactus-themed Apparel
Tucson Cookbook
Desert-inspired Candle
Tucson Coffee Blend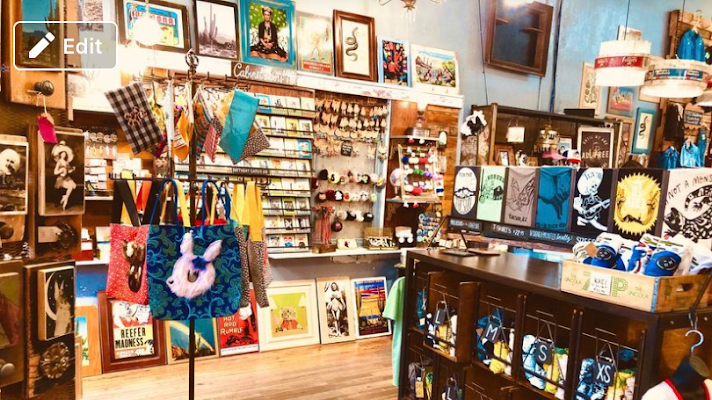 Top 5 Iconic Snacks and Culinary Delights from Tucson AZ
Tucson, Arizona is known for its vibrant food scene, and there are several iconic snacks that locals and visitors must try. From savory to sweet, these treats showcase the unique flavors and culinary delights of the region. Here are the top 5 iconic snacks from Tucson:
Sonoran Hot Dogs

Sonoran Hot Dogs are a Tucson specialty that is not to be missed. These delicious dogs are wrapped in bacon and served in a fluffy bolillo-style bun. Topped with fresh pico de gallo, creamy beans, diced onions, mustard, and jalapeños, Sonoran Hot Dogs are a delightful combination of smoky, sweet, and spicy flavors.

Chimichangas

Originating in Tucson, Chimichangas have become a staple of Southwestern cuisine. These deep-fried burritos are typically filled with shredded beef or chicken, beans, and cheese. Served with salsa, guacamole, and sour cream, Chimichangas are crispy on the outside and filled with flavorful goodness on the inside.

Prickly Pear Sorbet

Tucson's desert climate is perfect for cultivating prickly pear cacti, and this unique fruit makes for a refreshing and delicious sorbet. Prickly pear sorbet is made from the juice of the cactus fruit and is sweet, slightly tangy, and vibrant pink in color. It's the perfect treat to cool down on a hot Tucson day.

Fry Bread

Fry bread is a Native American culinary creation that has become a beloved snack in Tucson. Made from simple ingredients like flour, water, salt, and baking powder, fry bread is deep-fried to perfection and can be enjoyed sweet or savory. It's often served topped with beans, cheese, lettuce, tomatoes, and salsa, making for a flavorful and satisfying snack.

Carnitas Tacos

Tucson's Mexican food scene is renowned, and one of the must-try snacks in the city is Carnitas Tacos. These tacos are filled with slow-cooked, tender, and crispy pork carnitas. Topped with fresh cilantro, onions, and a squeeze of lime, Carnitas Tacos are bursting with savory flavors and are an absolute delight for the taste buds.
These top 5 iconic snacks from Tucson are just a taste of the culinary delights the city has to offer. Whether you're a local or a visitor, be sure to indulge in these delicious treats to experience the unique flavors of Tucson.
Souvenir and Gift Shopping in Tucson AZ: Expert Tips and Tricks
Tucson, AZ is a vibrant city that offers a variety of options for buying souvenirs and gifts. Whether you're looking for unique handcrafted items, local artwork or traditional southwestern goods, Tucson has it all. Here are some tips and tricks to help you navigate your shopping experience in Tucson:
Explore the local markets: Tucson has numerous farmers markets and craft fairs where you can find locally made products. These markets offer a wide range of items, including handmade jewelry, pottery, textiles and much more. Don't miss the Fourth Avenue Street Fair, which takes place twice a year and features over 400 vendors.
Visit the Tucson Museum of Art gift shop: The museum's gift shop is a treasure trove of unique and artistic items. From books on local history and art, to handmade jewelry and beautiful ceramics, you're bound to find something special here.
Check out the University of Arizona Bookstores: The University of Arizona is located in Tucson and has several bookstores on campus. These stores offer a variety of U of A branded merchandise, including clothing, accessories, and gifts. It's a great place to pick up souvenirs for any Wildcat fans in your life.
Go antique shopping: Tucson has a great selection of antique stores where you can find vintage and one-of-a-kind items. From furniture to retro clothing, these stores are a treasure trove for collectors and history enthusiasts.
Support local artists: Tucson has a thriving arts scene, which means there are plenty of galleries and studios to explore. These spaces often sell artwork and other handmade goods directly from local artists. Check out the downtown area, Fourth Avenue, or the Tucson Art District for a wide selection of art to choose from.
When shopping in Tucson, it's important to keep in mind the unique flavors and cultural heritage of the region. Look for items that reflect the rich Native American and Mexican influences in the area. Handmade jewelry featuring turquoise and silver, traditional textiles, and local desert-inspired artwork are all popular choices for souvenirs. Remember to support local businesses and artisans while exploring the diverse shopping options Tucson has to offer.