When visiting San Francisco, there are plenty of wonderful souvenirs to take home that capture the spirit of this vibrant city. From iconic landmarks to local flavors, here is a list of the top 10 souvenirs from San Francisco:
Golden Gate Bridge Replica: As the most famous landmark in San Francisco, a miniature replica of the Golden Gate Bridge is a must-have souvenir. You can find these in various sizes and materials, such as keychains, fridge magnets, or decorative models.
Cable Car Memorabilia: The historic cable cars are an integral part of San Francisco's charm. Consider buying a cable car-themed item, whether it's a toy replica, a t-shirt, or a hand-painted ornament.
Alcatraz Island Keepsakes: A visit to the infamous Alcatraz Island is an unforgettable experience. Commemorate your trip with a souvenir related to the island, such as a mug, a book about its history, or a print of the prison.
Local Artwork: San Francisco is known for its vibrant art scene. Support local artists by purchasing a piece of artwork that captures the essence of the city, whether it's a painting, a photograph, or a handmade ceramic.
San Francisco Giants Gear: For sports enthusiasts, San Francisco Giants merchandise is a popular souvenir choice. From baseball caps to jerseys, you can proudly display your love for the city's beloved MLB team.
Chinatown Wares: San Francisco's Chinatown is the oldest and largest in the United States. Browse the bustling streets to find unique Chinese crafts, including silk garments, ornate lanterns, or traditional tea sets.
Ghirardelli Chocolates: A trip to San Francisco wouldn't be complete without savoring the world-famous Ghirardelli chocolates. These delectable treats make for a delicious souvenir to share with loved ones back home.
Wine from Napa Valley: Just outside San Francisco, you'll find Napa Valley, a renowned wine region. Bring home a bottle (or a few) of the region's finest wines to enjoy and reminisce about your time in the city.
Local Food Products: San Francisco is a culinary wonderland, known for its sourdough bread, seafood, and specialty products. Consider bringing back a jar of local jam, a package of artisanal coffee, or a jar of Ghirardelli hot chocolate mix.
Cityscape Photography: San Francisco's picturesque skyline is a sight to behold. Purchase a high-quality photograph of the city's skyline, either in framed form or as a poster, to adorn your walls and remember your trip.
These top 10 souvenirs from San Francisco represent the distinctive culture, landmarks, and flavors that make the city so unique. Whether you're a collector, an art enthusiast, a foodie, or someone who simply wants a memento of their visit, there's a perfect keepsake waiting for you in San Francisco.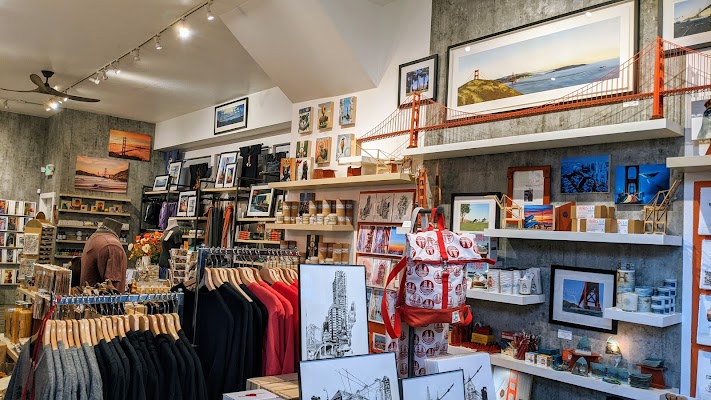 Bringing Joy from San Francisco CA: Top 10 Gifts to Delight Your Friends
San Francisco, California is a vibrant and culturally diverse city known for its iconic landmarks, scenic beauty, and rich history. Whether you're visiting the city or looking for the perfect gift to bring back home, here are 10 gifts from San Francisco that are sure to bring joy to your friends:
1. Golden Gate Bridge Memorabilia: The Golden Gate Bridge is an iconic symbol of San Francisco. Gift your friends a souvenir like a miniature replica, a poster, or a book about the bridge to commemorate their visit.
2. Cable Car Memorabilia: The city's historic cable cars are a beloved symbol of San Francisco. Look for gifts such as cable car keychains, t-shirts, or even a ride on the cable car itself for a memorable experience.
3. Ghirardelli Chocolates: Treat your friends to the delectable chocolates from the famous Ghirardelli Chocolate Company. From classic chocolate bars to gourmet hot chocolate mixes, these treats are sure to satisfy any sweet tooth.
4. San Francisco Sourdough Bread: San Francisco is renowned for its sourdough bread. Consider gifting your friends a loaf of this tangy, crusty bread or even a sourdough bread-making kit so they can recreate the experience at home.
5. San Francisco Art Prints: Capture the city's stunning landscapes and vibrant street art with art prints of San Francisco. These prints can be framed and hung as a beautiful reminder of their time in the city.
6. Wine from Napa Valley: Just a short drive away from San Francisco, Napa Valley is famous for its world-class wineries. Bring back a bottle of wine or a wine tasting experience gift certificate for your friends to enjoy.
7. Alcatraz Memorabilia: Alcatraz Island, once a notorious prison, now serves as a popular tourist attraction. Find gifts like Alcatraz-themed t-shirts, books, or a guided tour ticket to learn more about its fascinating history.
8. San Francisco-themed Puzzle: Puzzles provide hours of entertainment and relaxation. Look for a puzzle featuring a San Francisco landmark or cityscape to challenge your friends' problem-solving skills.
9. Local Artisan Crafts: San Francisco is home to numerous talented artisans and crafters. Consider purchasing handmade jewelry, ceramics, or textiles crafted by local artists to support the city's creative community.
10. San Francisco Cookbook: San Francisco is known for its diverse culinary scene. Gift your friends a cookbook featuring recipes from the city's famous chefs and restaurants, allowing them to recreate the flavors of San Francisco at home.
With these gifts from San Francisco, you can share a piece of the city's unique charm and create lasting memories with your loved ones.
Top 5 Iconic Snacks and Culinary Delights from San Francisco CA
San Francisco is known for its vibrant food scene and unique culinary offerings. From sourdough bread to Dungeness crab, the city is home to a variety of iconic snacks that locals and visitors alike can't get enough of. Here are the top 5 iconic snacks from San Francisco:
Sourdough Bread: San Francisco's sourdough bread is legendary. Made with a wild yeast starter, this tangy, chewy bread is a staple in the city. Whether you enjoy it as a sandwich or toasted with butter, you can't visit San Francisco without trying this iconic snack.

Dungeness Crab: San Francisco is famous for its fresh seafood, and Dungeness crab is a local favorite. This sweet and succulent crab is typically served steamed or in crab cakes, and it's a must-try snack for seafood lovers.

Mission Burrito: The Mission burrito is a San Francisco invention that has become a cult favorite. Wrapped in a large flour tortilla, this massive burrito is filled with rice, beans, meat, salsa, and other toppings of your choice. It's a portable and delicious snack that will keep you fueled throughout the day.

Fortune Cookies: While many people associate fortune cookies with Chinese cuisine, they were actually invented in San Francisco. These crisp cookies with surprise messages inside are a fun and iconic snack that you can find at many Chinese restaurants and shops in the city.

It's-It Ice Cream Sandwich: The It's-It ice cream sandwich is a beloved San Francisco treat. It consists of vanilla ice cream sandwiched between two oatmeal cookies and coated in chocolate. It's a nostalgic and indulgent snack that has been a favorite in the city since 1928.
Souvenir and Gift Shopping in San Francisco CA: Expert Tips and Tricks
When visiting San Francisco, it's hard to resist buying souvenirs and gifts to take back home. With its diverse culture and artistic atmosphere, the city offers a variety of unique and local products. Here are some tips and tricks to make the most of your shopping experience in San Francisco:
Explore local markets: Visit the Ferry Building Marketplace, which houses an array of gourmet food shops, artisanal goods, and unique souvenirs. The Alemany Farmers' Market is another great spot to discover locally made crafts, fresh produce, and homemade treats.
Shop in neighborhoods: Instead of sticking to touristy areas, venture into neighborhoods like Mission District, Haight-Ashbury, and Noe Valley, where you'll find independent boutiques and one-of-a-kind stores. These areas often showcase local artisans and designers.
Consider vintage shops: San Francisco has a thriving vintage scene, so keep an eye out for vintage clothing stores and antique shops. You might stumble upon unique treasures like retro fashion pieces, vinyl records, or vintage collectibles.
Support local artists: Visit art galleries and studios to support local artists and find unique artworks and crafts. The 49 Geary Street complex is a hub for contemporary art galleries, providing a diverse range of artistic styles.
Indulge in foodie gifts: San Francisco is renowned for its culinary scene, so consider buying food-themed gifts like local chocolates, gourmet coffee, wine, or artisanal cheese. Ghirardelli chocolates and Blue Bottle Coffee are popular choices.
Utilize public transportation: San Francisco has an extensive public transportation system, including cable cars. By using public transportation, you can easily access different shopping areas and save on parking fees.
Be aware of local regulations: If you plan to buy souvenirs made from wildlife materials, such as ivory, ensure they comply with local and international regulations to avoid legal issues. Familiarize yourself with the rules before making a purchase.
By following these tips and tricks, you can make your shopping experience in San Francisco both enjoyable and meaningful. Whether you're looking for locally made crafts, unique artworks, or delicious treats, the city has something for everyone.