1. Spokane Coffee Roasters: Bring home a taste of Spokane with a bag of freshly roasted coffee beans. Spokane has a thriving coffee culture, and you can find a variety of local roasters offering unique blends and flavors. Enjoy a cup of Spokane's signature coffee every morning and reminisce about your visit to this charming city.
Indaba Coffee Roasters
Thomas Hammer Coffee Roasters
Spaceman Coffee Co.
2. Spokane Chocolates: Indulge your sweet tooth with some delicious handcrafted chocolates. Spokane is home to several renowned chocolatiers who create mouthwatering treats using the finest ingredients. From truffles to chocolate-covered fruits, these delectable goodies make for the perfect gift or personal indulgence.
Halletts Chocolates
Spokandy Chocolatier
BooRadley's Chocolates
3. Riverfront Park Souvenirs: Riverfront Park is a must-visit destination in Spokane, and what better way to remember your time there than with a souvenir from the park? From T-shirts and hats to keychains and magnets, there are plenty of options to choose from to commemorate your visit to this iconic Spokane landmark.
T-shirts
Hats
Keychains
Magnets
4. Spokane Artisan Crafts: Spokane is home to a vibrant arts and crafts scene, with numerous local artists creating beautiful and unique handmade items. Support the local art community by purchasing a one-of-a-kind piece of pottery, jewelry, or artwork to take home as a souvenir.
Handmade pottery
Artwork
Jewelry
5. Spokane Wine: Explore the thriving wine region in and around Spokane and bring home a bottle (or two) of locally produced wine. With its favorable climate and fertile soil, the region produces a wide variety of high-quality wines. Savor the flavors of Spokane long after your visit.
Latah Creek Wine Cellars
Barrister Winery
Arbor Crest Wine Cellars
6. Spokane Apparel: Show your Spokane pride with a piece of apparel featuring the city's name or iconic landmarks. Whether it's a hoodie, a baseball cap, or a cozy sweatshirt, sporting Spokane attire allows you to carry a piece of the city with you wherever you go.
Hoodies
T-shirts
Sweatshirts
Baseball caps
7. Spokane Honey: Embrace the natural beauty of Spokane by purchasing a jar of locally sourced honey. Spokane's surrounding areas are rich in wildflowers, providing bees with an abundance of nectar to produce delicious honey. Spread it on your toast or use it as a sweetener to add a touch of Spokane to your meals.
Sweet Bee's Honey
Spokane Honey Company
Northwest Wild Products
8. Spokane-themed Books: Dive deeper into Spokane's history, culture, and natural beauty by picking up a book about the city. From photography books capturing the stunning landscapes to historical accounts and travel guides, these books serve as educational and informative souvenirs that allow you to continue exploring Spokane from afar.
"Spokane Memories" by The Spokesman-Review
"Spokane Outdoors" by Jim Kershner
"Spokane: A City and Its Heritage" by Tony Bamonte
9. Traditional Native American Crafts: Spokane is located in the heart of Native American country, and you can find beautiful traditional crafts made by local tribes. Look for handcrafted baskets, beadwork, dreamcatchers, or pottery that showcase the rich cultural heritage of the Spokane Tribe and other indigenous communities.
Handwoven baskets
Beadwork jewelry
Dreamcatchers
10. Spokane-themed Souvenir Magnets: Collecting fridge magnets from your travels is a classic way to remember the places you've been. Take home a Spokane-themed magnet featuring iconic landmarks like the Spokane Falls, the Monroe Street Bridge, or the Clocktower in Riverfront Park.
Spokane Falls magnet
Monroe Street Bridge magnet
Riverfront Park Clocktower magnet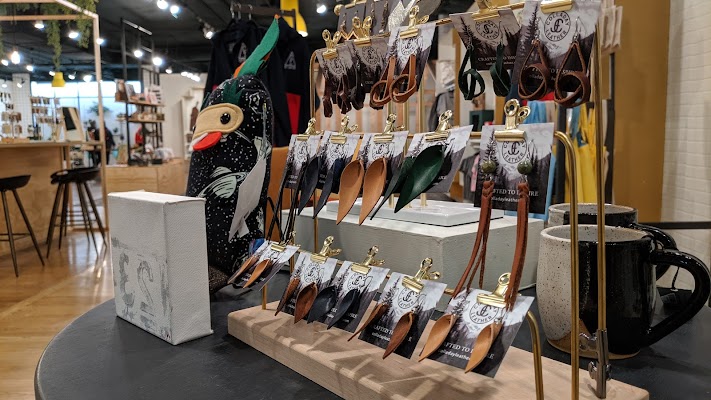 Bringing Joy from Spokane WA: Top 10 Gifts to Delight Your Friends
Spokane, Washington is a vibrant city known for its beautiful scenery, outdoor adventures, and friendly community. If you're looking for the perfect gift to bring a piece of Spokane to your loved ones, we've got you covered. From locally made products to unique experiences, here are the top 10 gifts from Spokane that are sure to bring joy.
Spokane-grown coffee: Give the gift of a delicious cup of coffee with beans sourced from local Spokane roasters. Choose from a variety of flavors and roasts, and pair it with a cute coffee mug for the ultimate coffee lover's gift.
Spokane-themed apparel: Help your friends show off their love for Spokane with stylish t-shirts, hoodies, or hats featuring iconic Spokane landmarks or the city's name. This gift is perfect for anyone proud to call Spokane home.
Spokane-made wine: Treat your loved ones to a bottle of wine from one of Spokane's many local wineries. Whether they prefer red or white, there are plenty of options to choose from to suit their tastes.
Spokane-inspired artwork: Bring a touch of Spokane's art scene into someone's home with a piece of locally made artwork. Look for paintings, photography, or sculptures that capture the beauty and spirit of Spokane.
Spokane-themed cookbook: For the foodies in your life, a cookbook featuring recipes from Spokane's top chefs is a great gift. They'll be able to recreate delicious dishes inspired by the city's culinary scene.
Spokane craft beer: Give the gift of a taste of Spokane with a selection of craft beers from local breweries. From IPAs to stouts, there's something for everyone to enjoy.
Spokane-themed puzzle: Puzzles are a timeless gift that can bring hours of entertainment. Look for a puzzle featuring a beautiful Spokane landscape or a map of the city to challenge and delight your loved ones.
Spokane food tour: Treat someone to a culinary adventure with a Spokane food tour. They'll be able to sample delicious food from local restaurants and learn about the city's vibrant food scene.
Spokane-inspired jewelry: Give the gift of beautiful jewelry that showcases Spokane's unique charm. Look for pieces inspired by the city's natural beauty, such as necklaces with pinecone pendants or earrings shaped like mountains.
Spokane outdoor gear: For the adventure seekers in your life, outdoor gear from Spokane is a perfect gift. From hiking boots to camping equipment, there are plenty of options to help them explore the great outdoors.
Whether your loved ones are coffee connoisseurs, art enthusiasts, or outdoor adventurers, there's a perfect gift from Spokane that's sure to bring joy. These thoughtful presents capture the spirit of the city and create lasting memories for your friends and family.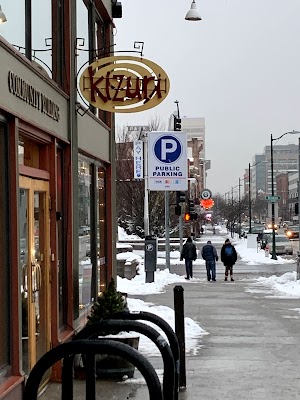 Top 5 Iconic Snacks and Culinary Delights from Spokane WA
Spokane, Washington is known for its vibrant food scene and the city boasts a variety of iconic snacks that locals and visitors alike rave about. From sweet treats to savory delights, here are the top 5 iconic snacks from Spokane:
Spokane Cheesesteak: This take on the classic Philadelphia cheesesteak has become a beloved snack in Spokane. Made with thinly sliced steak, sautéed onions and peppers, and melted cheese, it is often served on a fresh and soft roll. The combination of flavors and textures make this snack a must-try for any food lover in Spokane.
Spokorn: A play on the word "popcorn," Spokorn is a local specialty that has gained a dedicated following. This gourmet popcorn is popped in small batches and comes in a variety of unique flavors, such as huckleberry, spicy dill pickle, and jalapeno cheddar. Whether you prefer sweet or savory, Spokorn offers something for everyone.
Bavarian Pretzels: Spokane has a strong German influence, and one of the most popular snacks that embodies this influence is the Bavarian pretzel. These pretzels are made using traditional recipes and techniques, resulting in a soft and chewy texture. They are often served with a variety of dipping sauces, such as mustard or cheese, and are perfect for snacking on while exploring the city.
Huckleberry Shake: Huckleberries are a local favorite in Spokane, and one of the best ways to enjoy their delicious flavor is in a huckleberry shake. Made with fresh huckleberries blended with creamy ice cream or frozen yogurt, these shakes are a sweet and refreshing treat. They can be found at various ice cream shops and cafes throughout the city.
Spokane Style Hot Dog: While hot dogs may be a common snack, Spokane has its own spin on this classic treat. A Spokane Style Hot Dog typically consists of a grilled hot dog nestled in a fluffy bun and topped with cream cheese, sautéed onions, and tomatoes. The combination of flavors is unique and has become a local favorite.
Souvenir and Gift Shopping in Spokane WA: Expert Tips and Tricks
When it comes to buying souvenirs and gifts in Spokane, WA, there are a few tips and tricks to keep in mind to make the most of your shopping experience. Spokane offers a variety of unique and locally-made items that are perfect for remembering your trip or for giving as thoughtful gifts to loved ones. Here are some tips and tricks to help you find the best souvenirs and gifts in Spokane:
Shop local: Spokane is known for its vibrant local arts and crafts scene. By supporting local businesses and artists, you can find one-of-a-kind souvenirs and gifts that capture the spirit of the city. Look for shops and boutiques that specialize in locally-made products.
Visit local markets and fairs: Spokane has several farmers markets and craft fairs throughout the year. These events often showcase a wide range of handmade goods, including jewelry, ceramics, textiles, and much more. Visiting these markets is a great way to directly support local artisans and find unique souvenirs.
Explore downtown Spokane: The downtown area of Spokane is home to a variety of shops and boutiques. From antique stores to art galleries, you'll find plenty of options for finding special souvenirs and gifts. Take a stroll through the downtown streets and explore the various shops and shops.
Try local food and drinks: In addition to traditional souvenirs, Spokane offers a variety of local food and drink products that make for excellent gifts. Look for locally-roasted coffee, craft beer, chocolates, and other gourmet treats to bring home with you.
Consider Native American crafts: Spokane is located in an area with a rich Native American heritage. Take the opportunity to explore Native American shops and galleries to find beautiful handmade crafts, such as jewelry, pottery, and traditional artworks.
Check out the Spokane Symphony Store: If you're a music lover, the Spokane Symphony Store is a must-visit. Located in the historic Fox Theater, this store offers a wide range of music-themed gifts, including CDs, books, apparel, and instruments.
Whether you're looking for a special souvenir to remember your trip or a unique gift for someone special, Spokane has plenty of options to suit your needs. By following these tips and tricks, you're sure to find the perfect memento or gift that captures the essence of this beautiful city.