As a Lyft driver, you understand the significance of having a well-lit car. It not only enhances your visibility on the road but also contributes to the safety and comfort of your passengers.
In this comprehensive guide, we'll walk you through everything you need to know about the Lyft Amp, covering topics such as its purpose, how to acquire one, and the benefits it offers to drivers. Let's embark on this journey to illuminate your Lyft rides.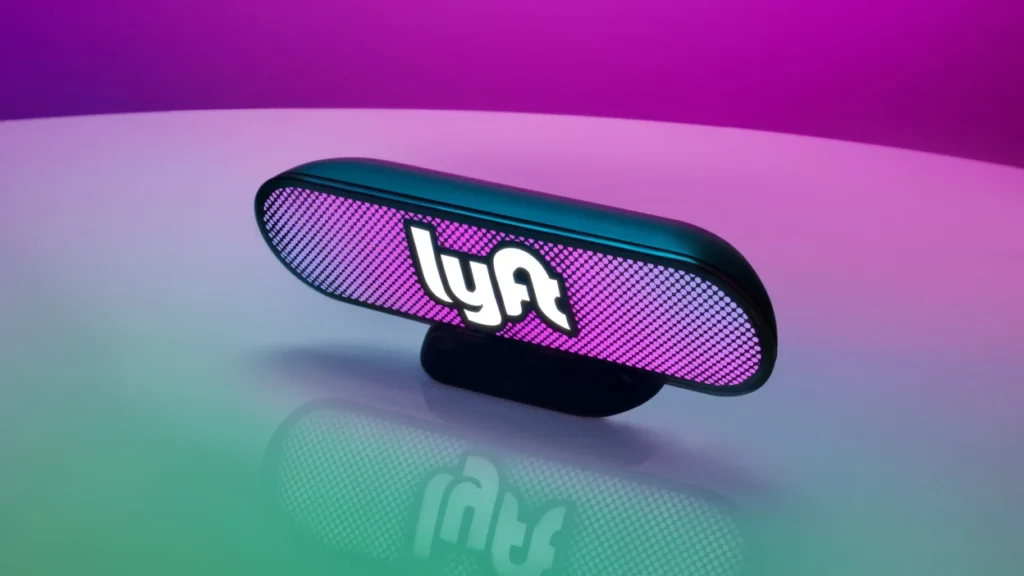 What Is Lyft Amp?
In 2016, Lyft bid farewell to its iconic mustache logo and introduced a modern, Bluetooth-enabled LED gadget called the Amp. The mustache logo had become a defining symbol of Lyft since its inception in 2012. The decision to retire the mustache was driven by the desire to appeal to a broader audience and better align with Lyft's evolving brand identity.
So, what exactly is the Lyft Amp?
The Lyft Amp is a compact LED light that attaches to the front dashboard of your car. It resembles the Lyft emblem found on the rear of many Lyft vehicles but is larger and more conspicuous. This branded illuminated sign marks an important transition in Lyft's image, offering a modern and eye-catching appearance that appeals to both new and existing customers.
Lyft co-founder John Zimmer expressed his aspiration for a Lyft ride experience that combines warmth, hospitality, and a touch of enchantment, inspired by his childhood dream of becoming a magician. The Lyft car light is not only a magical addition but also a strategic marketing tool that sets Lyft apart in the competitive ride-sharing industry, which includes not only Uber but also other emerging players like Alto, Via, and Wingz.
The Lyft LED light serves as a unique identifier, enabling Lyft to differentiate itself and gain a competitive edge.
Check Out Uber Greenlight Hub Guide Overview HERE
The Functions of Lyft Amp
The Lyft Amp is more than just a decorative accessory for your car; it serves various practical functions, enhancing both the driver's and passenger's experiences. Let's explore its key functions:
Enhanced Visibility: The Lyft Amp significantly increases your car's visibility to other drivers on the road, reducing the risk of accidents and collisions.
Passenger Safety: Passengers can easily spot your Lyft Amp from a distance, making them feel more secure when entering and exiting your vehicle.
Visual Cues: The Amp acts as a visual cue for passengers, especially when you're arriving at their pickup location.
Replaces Front Lyft Stickers: The Amp light replaces the need for front Lyft stickers. If you qualify for a custom LED Lyft Amp with the Lyft logo, you won't require a Lyft sticker on your front windshield.
It's important to note that while the Amp replaces the front sticker, many states and municipalities may still require drivers for both Uber and Lyft to display both front and rear logos when the car is in driving mode. Therefore, you may need to keep a sticker on the back windshield if local regulations mandate it. You can check the specific requirements for your city on the Lyft website.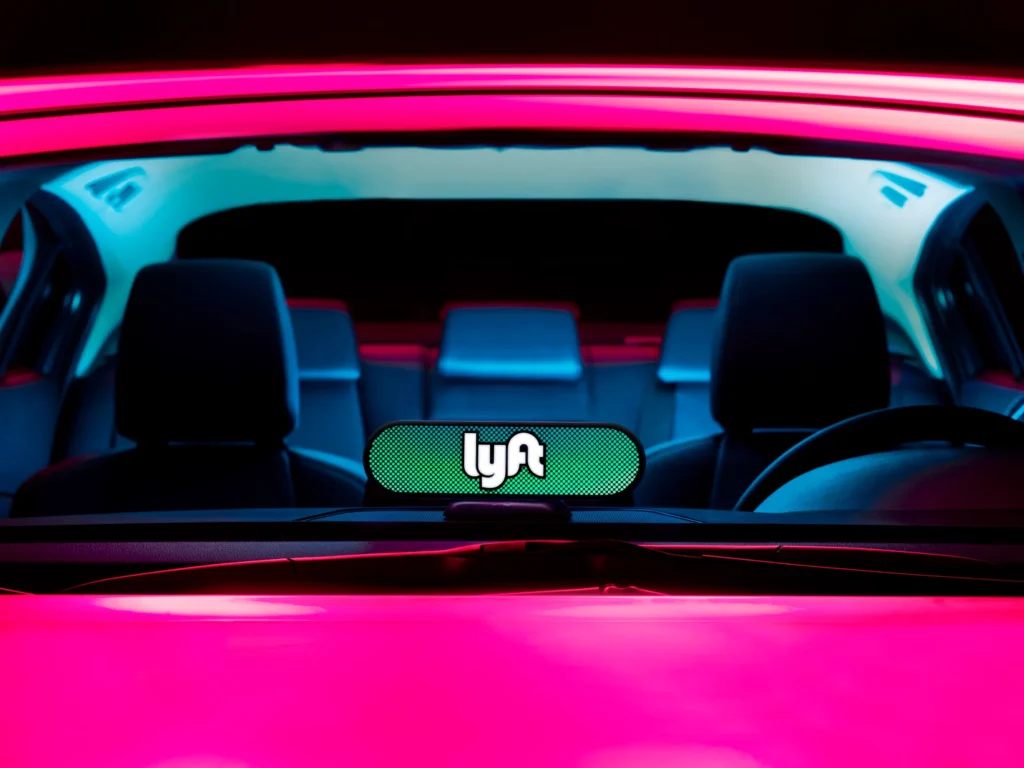 Acquiring a Lyft Amp
To obtain a Lyft Amp, you must meet certain eligibility requirements. These requirements may vary by location and may include:
Operating in a city where the Amp service is available.
Achieving a Gold or Platinum level in Lyft's Accelerate Rewards program. These levels typically require completing 175 to 250 rides (varies by market) within the last three months.
Ensuring that the Lyft app has your current address.
Please note that Amp distribution has been temporarily halted in many parts of the United States due to certain state laws that prohibit the display of illuminated signs on the dashboard while driving. Some Lyft drivers have received fines for non-compliance.
When Amp distribution resumes, Lyft will contact all eligible drivers. You can check your eligibility for the Amp on the Lyft app's dashboard under "Vehicle and Devices" and "Amp."
As of now, you cannot purchase a Lyft Amp directly from the official Lyft website. However, you may find Lyft Amps available for sale on third-party platforms like eBay, with the cost typically ranging from $75 to $150 USD for used Amps.
Pairing and Installing Your Amp
Once you have your Amp, you need to pair it with your Lyft driver app and install it in your car to enjoy its full functionality. Here's how you can do that:
Pairing Your Amp:
Open the Lyft Driver app.
Tap on your profile picture in the upper left corner to access your account settings.
Turn on the Amp in your car.
Under the menu that appears, tap on "Amp."
Scroll to the bottom and select "Pair my Amp."
If pairing does not work, ensure that your phone's Bluetooth feature is enabled and try again. If issues persist, you can contact Lyft Help via the driver app.
Installing Your Amp Magnetic Base:
Choose a suitable location for the Amp on your dashboard, ensuring it does not obstruct your view.
Ensure the dashboard surface is clean and dry.
Use the adhesive mounts and stickers provided to secure the Amp base to your chosen location.
Connect your Amp to the car charger using the USB cable.
Turn on the power switch to enjoy improved visibility.
Replacing a Lyft Amp
Lyft does not offer replacements for the Amp. In addition, Lyft cannot provide new power cords for its drivers. However, if the power cord that came with your Amp stops working, you can replace it with a standard micro USB cable.
Want to Know How to Cancel Walmart Plus Subscription? Check Here
Frequently Asked Questions
Here are some answers to frequently asked questions about the Lyft Amp:
How to Make a Lyft Amp Battery Replacement?
If your Lyft Amp is no longer lighting up or holding a charge, it may require a battery replacement. However, this is not a task you can easily perform on your own. You can seek assistance by contacting Lyft support or visiting the nearest Lyft HUB.
Can Drivers Customize Amp Messages?
Lyft drivers are not allowed to modify the messages displayed on the Amp. This policy is in place to ensure that drivers provide safe and consistent rides.
What's the Story Behind the Name "Amp"?
Lyft named the Amp because it "amplifies your ride experience and energizes the Lyft community," effectively making you stand out and providing a vibrant and dynamic ride experience.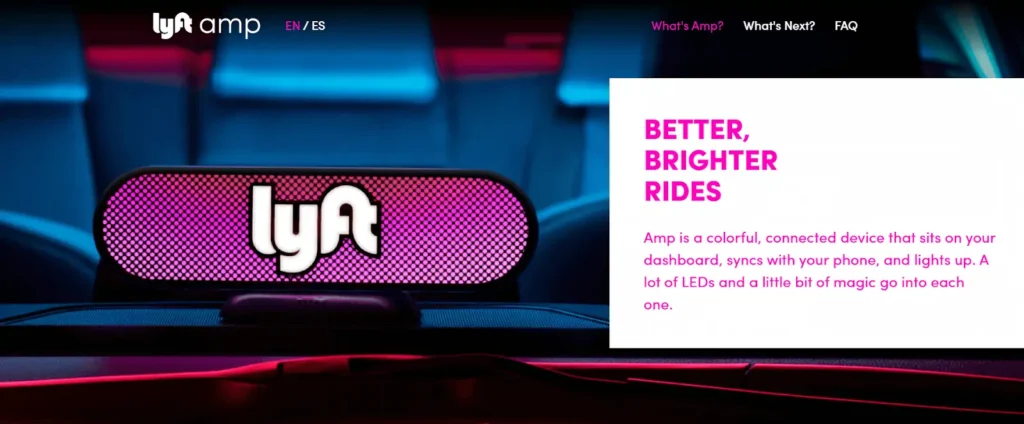 The Lyft Amp is more than just a decorative addition to your vehicle; it's a functional tool designed to enhance both driver and passenger experiences. While obtaining a Lyft Amp may be subject to eligibility and local regulations, it can significantly improve your visibility on the road and make your passengers feel safer and more comfortable.
Lyft's transition from the mustache logo to the modern Lyft Amp reflects the company's evolution and its commitment to delivering a unique and enchanting ride experience. Whether you're seeking a way to improve your rides or considering a distinctive identifier, the Lyft Amp serves as an illuminating solution.
We hope this guide has shed light on everything you need to know about the Lyft Amp, from its functions to eligibility requirements and installation. If you have any more questions, feel free to reach out. Let your Lyft rides shine brightly with the Lyft Amp!